EC20 Desktop USB fingerprint reader
Our desktop readers provide the full functionality of a clocking terminal at a fraction of the cost. Desktop USB fingerprint readers are ideal for locations where there is insuffcient staff to warrant a full clocking terminal. With the Easy Clocking state-of-the-art fingerprint authentication technology you can track employee's time and attendance with the touch of a finger.
When a fingerprint time clock fails, for whatever reason, the technology becomes more of a barrier than an aide. The net result is user frustration, resistance to adoption, and an inability to justify costs. Regardless of which fingerprint technology is chosen, it must work reliably under real world conditions. The real world is not always ideal. The real world is wet, it is dry, it is not always clean and users are not all young office workers with great skin conditions.
Web based fingerprint clock

The USB fingerprint reader is easy to install and requires no technical knowledge. Just plug it into any windows pc with an internet enabled web browser and off you go. Employees can clock in or out in seconds from their cloud based employee portal or PC installed clocking application. Completely Eliminates "buddy punching" the practice of one worker clocking in out for another.
---
Easy to use enrollment interface

Adding fingerprint for users has never been easier. Our intuitive enrollment interface allows you to easily register employee fingerprints and upload them to any time clocks associated with the employee.
---
Real time "Push" technology

Get up to the minute real time view of your workforce. Easy Clocking time clocks push data to the Easy Clocking software as it happens to give you a real time view of your employees time & attendance status. Our time clocks communicate seamlessly with our software, all you need is an ethernet connection.
---
Job costing

Easily track jobs on the time clock. Employees can enter a specific job or project then clock in or out. These job code data is transferred seamlessly to the software to accurately give you detailed numbers on how much you are spending on jobs.
---
EC20 USB Vs The Competition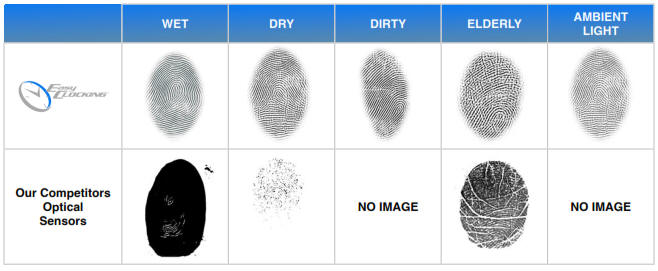 ---
Features & benefits

Eliminates "buddy punching" the practice of one worker clocking in out for another.
Works in all environmental conditions, cold, dry, humid and wet climates in near zero failure.
With Real-Time you see who's clocked in and out the moment it happens.
Assembled in the USA and used by over 5,000 companies
Works seamlessly with Easy Clocking time & attendance software
Designed to work in any corporate environment
Low cost alternative to fingerprint time clocks
Just plug it in and start clocking in/out in the cloud